Tavira Portugal Guide - Fully updated for 2023!
Tavira is one of the most charming towns in the Algarve, and is a wonderful destination for your holiday.
Tavira lies along the slow flowing Gilão River, and is a delightful mix of traditional Portuguese heritage with deep-rooted Moorish influences. Concealed within the labyrinth of cobbled streets are traditionally tiled houses, family run restaurants, and a myriad of decorative churches.
South of Tavira are the protected waterways and mudflats of the Parque Natural da Ria Formosa, which leads to the beautiful sandy beaches of the Ilha de Tavira. Surrounding Tavira are the fascinating towns of Olhão, Vila Real de Santo António and Cabanas, along with world-class golf courses and unspoilt countryside.
As a holiday destination, Tavira is the perfect combination of beaches and culture, while still offering modern hotels, contemporary cuisines and glorious weather.
Tavira is one of our favourite holiday destinations in the Algarve, and we are sure you will fall in love with it also
What are the Highlights of Tavira?
Tavira's setting
Tavira is located on the eastern side of the Algarve, approximately 30 km east of Faro and 25km west of the Spanish border. This region attracts fewer tourists than the central or western Algarve, and provides a more peaceful and calm holiday experience.
Flowing through the centre of Tavira is the Gilao River, which meanders into the shallow waterways and mudflats of the Ria Formosa Nature Park; a haven for migratory birds and sea life. Beyond the Ria Formosa lagoons is the Ilha de Tavira, a sandbar island which is the location of Tavira's beautiful beaches.
Related article: Sights and activities in Tavira
How long to spend in Tavira?
Tavira is ideal for a 1-week holiday. A week in Tavira could combine time on the beaches with excursions to the towns of Olhão, Faro and Vila Real de Santo António. As Tavira is a large town, there is a wide selection of restaurants and bars, and it is easily possible to eat (and drink!) somewhere completely different every day.
If you are touring southern Portugal, you should plan to spend at least two days in Tavira. The first day would explore the historic sights of the town and the second day would visit the Santa Luzia and the beautiful beaches on the Ilha de Tavira. Alternatively, Tavira could be used as a base from which to explore the eastern Algarve.
Related articles: 2 days in Tavira – 1 week in Tavira
Who should visit Tavira Portugal?
Tavira is a great destination if you want more than beautiful beaches and glorious weather for your holiday. The town is a mature and unhurried destination, which combines an authentic Portuguese experience with modern tourist facilities and services.
Tavira is far removed from the hecticness of the central and western Algarve, and Tavira is not a holiday destination for groups seeking crazy nightlife and excessive drinking. If you are purely after a beach focused holiday, then there are better locations in the Algarve than Tavira, such as Albufeira, Vilamoura and Praia da Rocha. Tavira's beaches are beautiful, but there are none within walking distance, and a ferry must be caught.
Tavira as a day trip?
Tavira is one of the most popular day trips of the eastern Algarve. Tavira is a joy to explore with its plethora of historic buildings and ornate churches, all of which are set around charming plazas and pretty cobbled streets.
There is good public transport connecting Tavira to the surrounding region, and the town can be easily explored on foot and independently.
If you get a chance to visit Tavira, then you should.
Below is a suggested tour for a day trip to Tavira, the route takes around 3 hours
Key to sights: 1) Igreja da Misericórdia 2) Castelo de Tavira 3) Camera Obscura 4) Convento da Graça 5) Igreja de Santa Maria 6) Câmara Municipal 7) Praça da República 8) Ponte Romana 9) Jardim da Alagoa 10) Igreja de Nossa Senhora 11) Jardim Público 12) Antigo mercado do peixe 13) Porto de Pesca 14) Mercado Municipal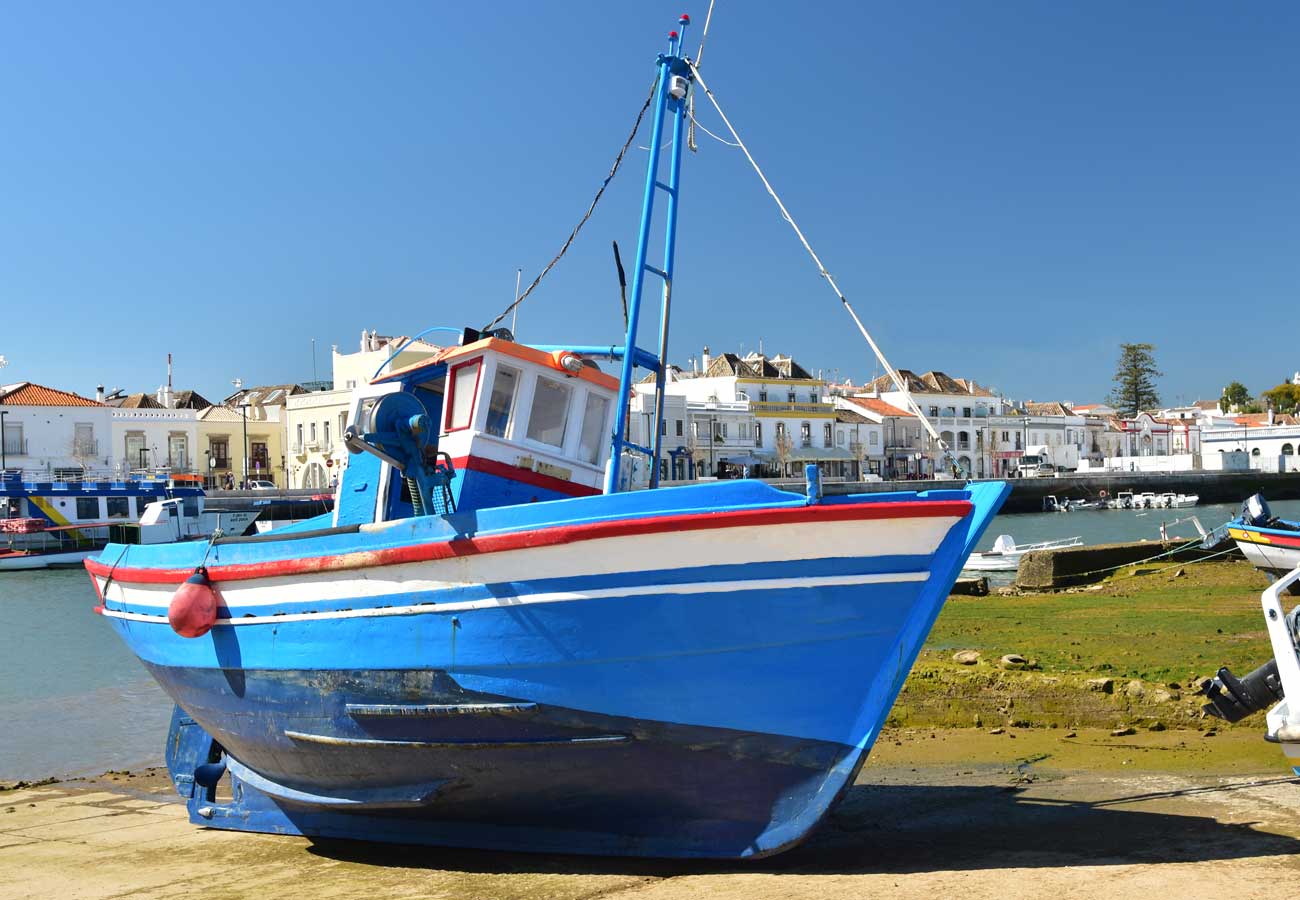 Tavira for families and teenagers?
Tavira is popular with families with young children, who are drawn by the calm and welcoming atmosphere. The town has a wide range of family friendly restaurants and hotels, while the beaches of Tavira are safe and suitable for children.
Tavira is a distance from the Algarve's theme and waterparks, and families with teenagers may prefer to be based close to the hecticness of the central Algarve.
Tavira for 2023
Tavira is expecting a sell-out summer season for 2023, as more visitors seek holidays to safe and established destinations within Europe.
As with many other tourism destinations, the Algarve was severely hit by the events of 2020/2021, but by the time you visit the difficulties of 2020 will be a distant memory.
As Tavira is expecting a sell-out 2023, we strongly advise you to get your flights and accommodation as soon possible before they increase and sell out.
The map below shows the best hotels and accommodation in Tavira, if you adjust the dates to your holiday it will display current prices and availability.
When to visit Tavira?
The height of the tourist season is from June until August, but the weather is suitable for spending time on the beaches from May until the end of September. Spring and autumn are great seasons to visit the region, with sunny weather but without the intense heat or the summertime crowds.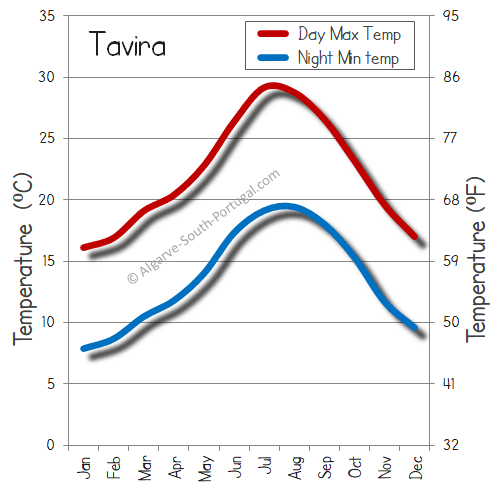 The average weather of Tavira
The weather in the winter is unpredictable, but there tends to be more sunny days than cloudy, wet days. The low season (November to March) is a great time for a touring, hiking or cycling holiday. As Tavira is a major town with a large permanent population, all restaurants, cafes and bars remain open year-round.
Related articles: When to visit Tavira?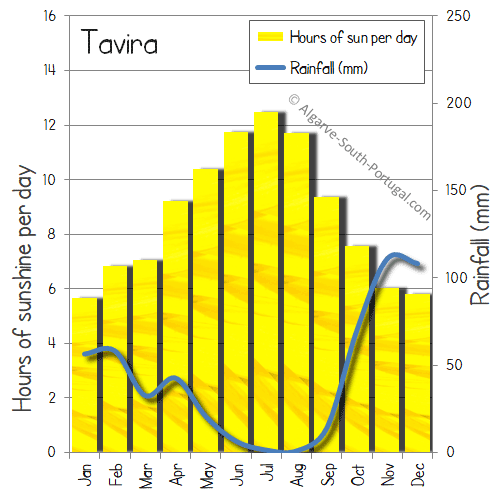 Does Tavira have good beaches?
Tavira boasts a 10km long sandy coastline that extends along the southern side of the Ilha de Tavira island. This island is separated from the mainland by the waterways and mud flats of the of the Parque Natural da Ria Formosa, and there are regular ferries from central Tavira to the beaches.
The main beach of Tavira is the Praia de Tavira, which is at the eastern edge of the Ilha de Tavira, while further westwards are the peaceful beaches of Praia do Barril and the Praia da Terra Estreita. These beaches are calm and safe and are suitable for children.
Related articles: Tavira beach guide - Praia do Barril
What could be seen and done in a week's holiday to Tavira?
Tavira is more than just a simple beach holiday destination; there is a varied selection of sights and activities within the region to fill a 1-week holiday. Ideas for a week's holiday could include:
• Visit Santa Luzia, a small fishing village that specialises in octopus fishing
• Have a beach day to the Praia do Barril, the setting of the Cemitério das Âncoras (Anchor Cemetery)
• Play a round of golf on the stunning Benamor or Quinta da Ria golf courses
• Explore the city of Faro, with its historic walled centre, pleasant shopping streets and creepy bone chapel
• Join a kayak tour around the Parque Natural da Ria Formosa.
• Take a day trip Vila Real de Santo António, which lies on the Guadiana River and Spanish border
Related articles: 1 week in Tavira - Tavira day trips
Faro Airport and airport transfers
The international airport of the Algarve is Faro Airport, and this is 35km to the west of Tavira. The fastest option for onward travel is to pre-book a private transfer (€44, 40min), there are cheaper shared transfers, but these take longer (€15, 60min).
It is possible to travel by public transport from the airport to Tavira, and the journey requires a bus (Faro airport to Faro city) and train (Faro city to Tavira). This journey only costs €7.50 but can take up to two hours due to the infrequent departures.
Related articles: Faro airport to Tavira
Our most popular guides to Tavira