Tavira Introduction - Sights & activities - 1 week - Beaches - Airport To Tavira - Day Trips - Barril Beach
Tavira Market the Mercado Municipal
The mercado municipal is the main market of Tavira and is an interesting alternative tourist attraction. The main draw of the market is the lively early morning fish market, this is where the fishing fleets' fresh catch is sold to local traders and restaurants.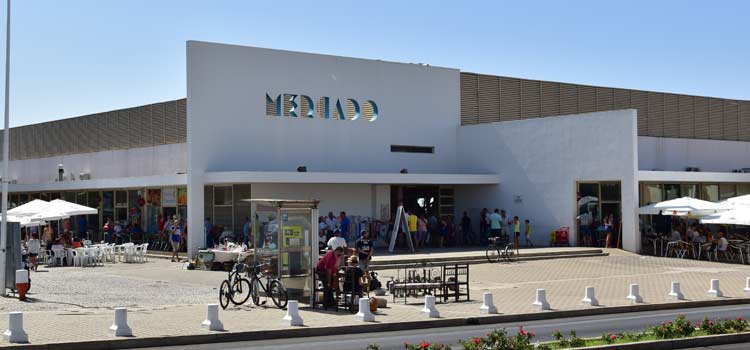 The colorful flower and vegetable section of the Tavira market.
Outside of the hectic early morning the market is a great place to buy fresh fruit and some specialist tourist gifts direct from producers. The mercado municipal is readily accessible location to experience Portuguese daily life, just remember to arrive early.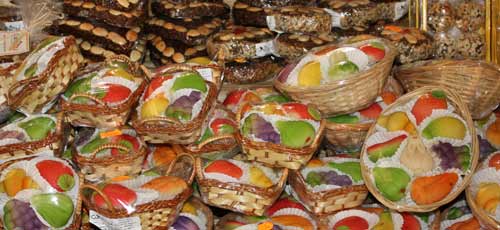 Marzipan fruit sweets on sale along with date cakes and deserts
What to Purchase at the Market?
The market specializes in food and perishables goods. Any food gifts will be significantly cheaper than in the tourist shops located in the centre of the town. One item which is highly recommended are the highly detective Marzipan sweets that have been rolled into beautiful shapes which include fish, vegetables and fruit. These make for fantastic gifts as they are light to carry, highly unique to the Algarve region and can be stored at room temperature for journey home.
Other gift ideas include local produced honey and salt from the salt flats of the national park. All fruit and vegetables are local grown and are unbelievably cheap and tasty. Cherry, strawberries and water melons make an ideal snack for the beach.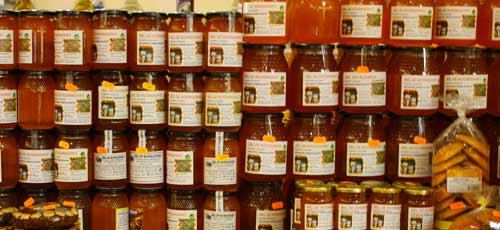 Locally produced honey - sweet and taste
Where is the Mercado Municipal Tavira?
The market is located on the southern bank on the eastern side of the town. The market is located on the Avenida Don Manuel I, this is the main road which crosses the Rio Gilao on the eastern side of the town. The market is a bland low-rise building with a massive market sign.