Tavira weather and when to visit
Tavira is in one of the most beautiful spots within the Algarve. The historic city is divided by the impressive Gilao River and nestles behind the marine habitats of Ria Formosa Nature Park.
This idyllic setting ensures that Tavira is both blessed with a balmy Mediterranean climate and sheltered from any coastal breezes.
In peak season, Tavira has clear sunny days, however, the heat and intense summer sun can limit sightseeing. Instead, many choose to soak up the sun on the glorious beaches of Ilha de Tavira, or take a relaxing boat trip . In the summer months, sightseeing is best left to mornings or at twilight when the temperature cools slightly.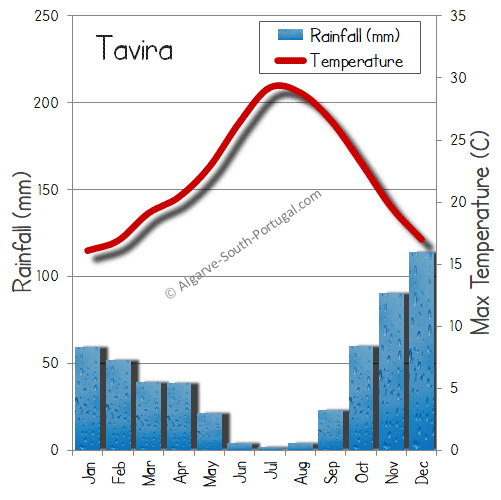 In the shoulder seasons (May-June and September-October), the beauty of the neighbouring Ria Formosa Nature Reserve comes alive. The clear, fresh days enable tourists to explore the region on foot, via a special bike trail or by water. In Spring and Autumn, temperatures on the local beaches of Ilha de Tavira are still comfortable for sunbathing, but tourists can also roam the city attractions without heat exhaustion.
Whilst Tavira is notably quieter in winter, its rich cultural heritage make it a fascinating destination for a holiday. The cooler temperatures and slight breeze make it also an ideal time for active pursuits and day-tripping around the Eastern Algarve. Winter days are a pleasant mix of sunshine and cloud, but visitors may also experience some light to moderate rain showers.
Read on for detail about when to visit to get the perfect holiday for you, and what to expect from each of the different seasons.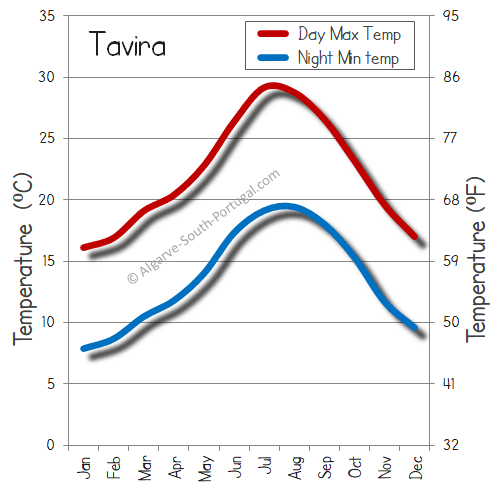 When is the best time of year to visit Tavira?
In Springtime, Tavira and its surrounding nature are exceptional. The mild temperatures (mid 20 degrees Celsius) slight breeze and bright days makes this region glorious.
The long daylight hours (typically 9-10 hours) in Spring, and consistently dry weather, enables tourists to experience everything the city has to offer without the summer time crowds.
As the sun sets around 7.30pm this is a great time for roaming the Gilao Riverside (with a jacket) and then dining alfresco.
Tavira 2022
As one of the finest resorts within the Algarve, Tavira is expecting a sell-out summer season for 2022. As many will be gearing up to fully enjoy the summer season in different cultures, the Algarve will be a popular destination.
As Tavira is expecting both busy peak and mid seasons, we strongly advise you to book your flights and accommodation as soon as possible before prices increase and the most authentic accommodation gets booked up.
The map below shows the best hotels and accommodation in Tavira, if you adjust the dates to your holiday it will display current prices and availability.
The different tourist seasons of Tavira
Peak Season (July – August)
In peak season the temperatures can often soar although they are typically between 25-30 degrees Celsius. The heat of the direct sun is strong and this can make exploration between 11am-3pm rather tiring.
In the peak heat of the day tourists can head to the beaches of Ilha de Tavira via boat. Expect beaches to be at their busiest but the sandy shores can accommodate peak crowds better than other Algarve regions. If you are not used to Algarve sun, it is wise to take a cover up or rent a parasol as the UV index in summer is high.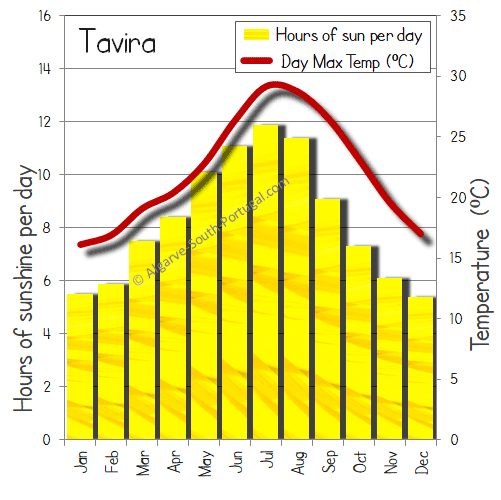 Alternatively, it is possible to escape the heat at one of the museums or cultural sights. Boat trips to Ria Formosa run at frequent intervals. For those that can take the heat, many head to the beaches of Ilha de Tavira and expect Praia da Tavira to be packed (the other beaches are a long walk).
In peak season the sunsets late, at approximately 8.30pm, which is a great time to roam the Riverside. Booking top restaurants ahead of evening is recommended.
Peak season weather at a glance
• Daytime temperatures: Often range between 25 – 34 degrees Celsius
• Night-time temperature: Early 20 degrees Celsius
• Weather: Blue skies and strong direct sunshine, an occasional cloudy day and very low chance of light showers, light summer breezes.
• Sunrise and Sunset: 6.30am/8.30pm
Peak Mid-season (April, May, September, October) (July – August)
Tavira is unlike any other Algarve resort in spring and Autumn. While the city shares the typical Algarve warm, mild off peak days, the unique wildlife of Ria Formosa, deserted beaches and year-round cultural sites makes this a must-see destination.
Flocks of exotic migrating birds congregate in the reserve allowing visitors to see many rare species up close. The different landscapes of the nature reserve can also be discovered independently by bike, hiking and kayaking, which can be too exhausting in the peak summer sun.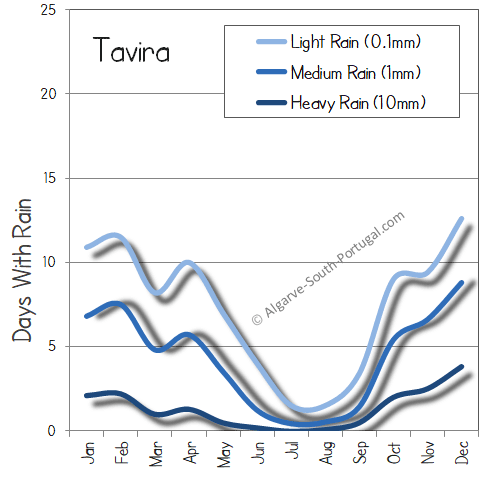 Sunbathing is comfortable in the Algarve from May to September and Tavira has some of the most unique options to discover. In peak season the boat trip to the beaches can seem too much but in the mild temperature of spring this is a pleasant add on. The gentle breeze, chance of some cloud cover and lower humidity make it ideal weather for strolling a little further and exploring Praia do Barril with its anchor cemetery.
Back in Tavira City centre, the top historic sights, such as Castelo de Tavira, are much easier to explore and less busy. The long daylight hours mean cultural tourists can also see a lot more.
Mid-season weather at a glance
• Daytime temperatures: 20+ degrees Celsius
• Night-time temperature: 10-15 degrees Celsius
• Weather: mostly clear skies with some light cloud cover, occasional light rain showers and an offshore breeze in afternoon and evening.
• Sunrise and Sunset: 7am/7.30pm
Low season (November – March)
Whilst Tavira's winter weather is less predictable, the climate stays relatively mild. Days are an equal ratio of cloudy to sunshine and although there are showers are mostly light to moderate.
For those less interested in a winter beach destination, Tavira is still a culturally rich and impressive Portuguese destination. Many of the top sights are open year-round and the restaurants remain open for locals.
Further afield the Ria Formosa Nature Park is sleepy but still majestic to explore via water. The beaches also make for relaxing strolls although the breeze and cold sea temperatures make it too cold for sunbathing.
Low season weather at a glance
• Daytime temperature: Range between 10-15 degrees Celsius
• Night-time temperature: More chilly at 0-10 degrees Celsius
• Weather: 50% chance of sunny/cloudy days and moderate rainfall. Stronger breeze which can make evenings feel cooler
• Sunrise and Sunset: 7.30am/5.30pm
Sea temperature
It surprises many visitors to Tavira's beach that the sea water temperature is a lot colder than other destinations in the Mediterranean: This is due to the Atlantic currents. Temperatures reach 18C at the height of the summer and drop to 14C in the winter.
When best for young families (Easter to July)
Tavira in spring and early summer is an ideal time for a family vacation. The weather is clear and sunny without the summer heat and humidity, which can be too much for little ones. The long daylight hours are also great for early risers and make evenings very safe when out and about.
The town is very family orientated. Most attractions welcome young visitors with discounts and there are a broad range of activities in and around the nature park for little explorers from Easter onwards.
Local eateries and restaurants cater for children and there is a wide selection open year-round so there's no need to book ahead in off-peak seasons. From Easter, the beaches of Ilha de Tavira, particularly Praia da Tavira, are also perfect for a child-friendly day out.
From May onwards beaches are supervised by lifeguards and the calm, shallow-gradient waters are safe for splashing around. Praia da Tavira also has toilets, beach amenities and plenty of activities to keep short attention spans busy.
It is worth noting that whilst Tavira is a great, safe family destination, it is further away from the waterparks and mayhem of the golden triangle of the Algarve. Therefore, may not suit independent teenagers who are looking to do more active pursuits.
When to visit for older people (September to October)
While Tavira retains its charm in peak season, those lucky enough to travel in mild Autumn will find the city is much more peaceful. Just after peak season the religious and cultural sights are quieter and visitors can roam across the Ponte Romona Bridge into the centre of Tavira with the locals.
Tavira's climate in Autumn is still pleasant (mid-20s degrees Celsius) and daylight hours are still relatively long (9-10) but the intensity of the direct sun reduces. This makes it ideal weather for touring, and Tavira is a wonderful base to explore the quieter Eastern Algarve.
Our most popular guides to Tavira