Tavira Intro > 1 week > Day Trips > Tavira Beaches > Airport To Tavira > Tavira Sights > Barril Beach > Algarve Intro
Lisbon to Tavira by Bus and Train
Tavira is a picturesque and charming resort town situated on the eastern Algarve, while Lisbon is the vibrant capital of Portugal and is regarded as one of the finest cities of Europe. Connecting Lisbon and the eastern Algarve are regular and inexpensive public transport services, and all of these routes pass through Tavira. This guide will detail how to travel between Tavira and Lisbon using public transport, and will provide details of fares and links to the latest timetables.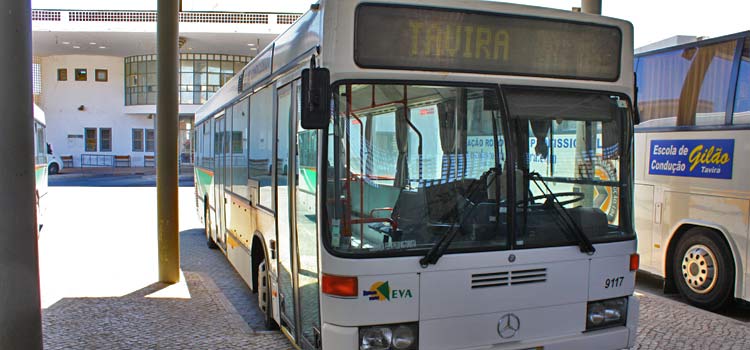 Tavira bus station is always quiet
Lisbon to Tavira Overview
Lisbon is 300km to the north west of Tavira and, when driving, the journey takes around 3 hours. Driving in the Algarve and along the expressways is easy, but Lisbon is notoriously difficult with crowded roads, erratic drivers and nowhere to park. Portuguese public transport is safe, inexpensive and reliable, and makes for a good choice for travelling between Tavira and Lisbon.
Bus or train from Lisbon to Tavira?
Tavira and Lisbon are connected by both bus and rail services, and there is not much to separate them. The bus is direct and slightly faster, while the train is spacious and more relaxing.

The rail route from Tavira to Lisbon requires two trains and a connection at Faro. The train from Tavira to Faro is a slow regional service, whereas the train from Faro to Lisbon is a fast intercity (Intercedes - IC) or modern Alfa Pendular (AP) service.

The bus services from Lisbon to Tavira are direct, and as there is no connection, the journeys tend to be shorter. The main issue with the buses is that seats sell out fast during the summer and popular weekend services will be completely sold out.
The following sections will explain in detail the bus and train services between Tavira and Lisbon.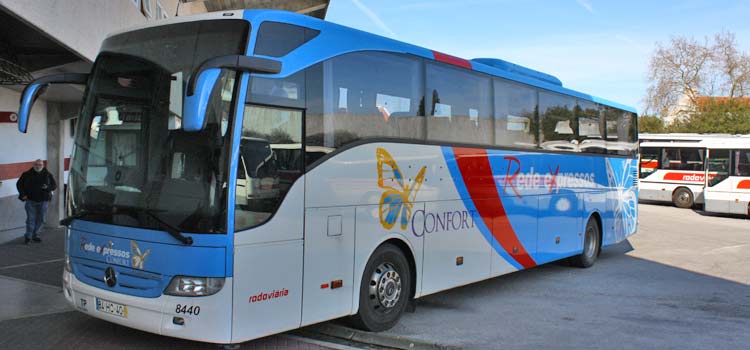 The Rede Expressos Tavira bus
Tavira to Lisbon by Bus
Once there were three bus companies which operated along the Tavira route; Rede Expressos (main intercity bus company), Eva (Algarve bus company) and Renex (private bus company). They are all now part of the same organisation, but the buses will still have their unique livery.
There are four different direct bus routes from Tavira to Lisbon which vary between 4h15min to a very slow 5hour service, with a total of 13 departures Monday to Friday. The fastest service to Lisbon is the Eva 93 route, as this is an express service the ticket price is slightly higher at €20/€36 (single/return). The latest timetable can be seen on the Eva website:
(link opens new tab)
The other routes are the Rede Expresso route 91 and 97 and the Renex route 69, these all have a standard fare of €18/€34 (single/return). The latest time table along with ticket sales can be seen on the Rede Expressos website:
https://www.rede-expressos.pt/
(link opens new tab)
During the summer months tickets should be purchased as soon as possible as the popular departures (Friday-Sunday) book up fast. Tickets can be purchased from either bus station or on Rede Expressos' website. Generally, if purchasing tickets while based in Tavira head to the bus station as it is quiet and very close to the city centre.
Lisbon and Tavira Bus Stations
Tavira bus station is modern and always very quiet, especially in comparison to Lisbon. The bus station (GPS: 37.12714, -7.65261) is only a 200m walk from the Ponte Romana Bridge and the ticket office is open from 7:20 until 19:00 every day.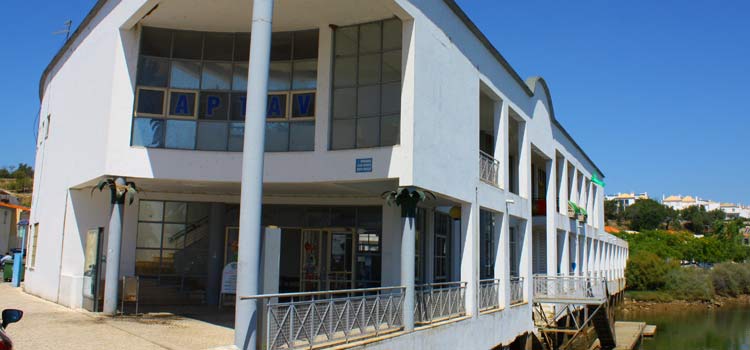 Tavira bus station from the outside and is located close to the river
In Lisbon, the main bus station is Sete Rios, and this is to the north of the capital. The Sete Rios bus station (GPS: 38.74141, -9.16631) is connected to the blue metro line and is served by the Jardim Zoológico metro station (and is also close to the zoo!). Sete Rios is a busy but modern bus station with lots of ticket office, shops and cafes. Sete Rios is safe, but always use common sense with valuables as it attracts are range of different people.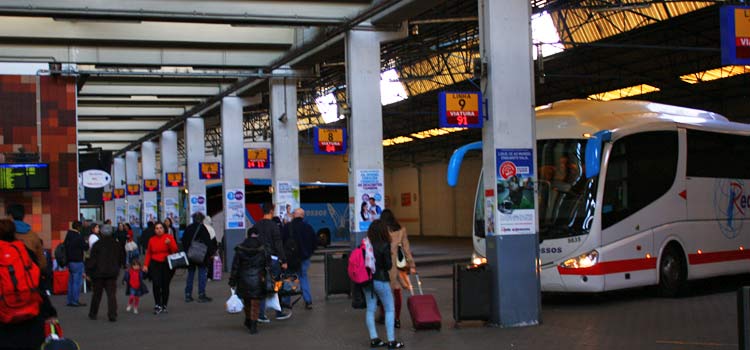 Sete Rios bus station is a busy transport hub
Lisbon to Tavira By Train
The number of train services is very limited and there are only five daily departures. For the latest timetables please see the Combios de Portugal (CP) website, the timetable that lists all suitable connections from Lisbon to Tavira is found here:
https://www.cp.pt/StaticFiles/Passageiros/horarios/horarios/PDF/ap_ic/porto_lisboa_faro_lagos.pdf
Timetable with all Lisbon to the Algarve trains:
https://www.cp.pt/StaticFiles/Passageiros/horarios/horarios/PDF/ap_ic/ap_ic.pdf
Algarve regional timetable:
https://www.cp.pt/StaticFiles/Passageiros/horarios/horarios/PDF/r_ir_uc/vrantonio_lagos.pdf
(links opens new tab)
A single ticket travelling on the Intercedes costs €22.30 while the much more comfortable Alfa Pendular costs €23.30. Train seats between Faro and Lisbon have to be reserved, therefore tickets for the entire journey must be pre-booked either on the CP website or purchased from the train station.
Tavira and Lisbon Train stations
Tavira train station is very small with just two train lines. The station is to the north west of the town (GPS 37.12053, -7.65574) and involves a gentle hill from the town centre. Tavira has a second even small train station, Porta Nova, but this does not have a manned ticket office.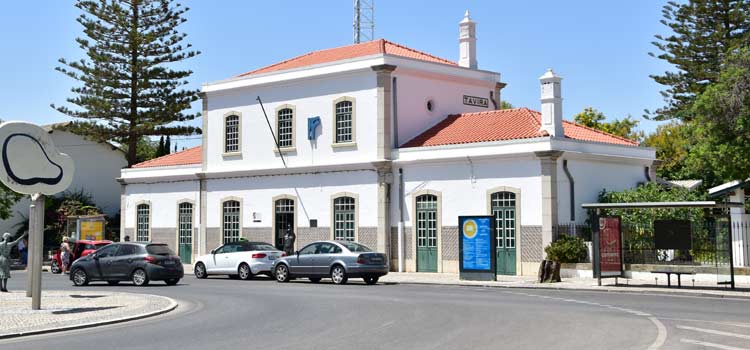 Tavira's small train station
Faro is the connection train station to change from the regional train to the Intercedes / Alfa Pendular. Faro is again a small train station and easy to navigate, usually there are lots of other travellers making the same connection. The Lisbon train will wait for the regional train if there is a delay.
In Lisbon, all trains stop at Estação do Oriente (same location as the bus station) and most stop at Santa Apolónia. Oriente is on the red metro line and is closer to the airport, while Santa Apolónia is closer to the historic centre of Lisbon.