Tavira Intro > 1 week > Day Trips > Tavira Beaches > Airport To Tavira > Tavira Sights > Barril Beach > Algarve Intro
Tavira to Monte Gordo by Train
Tavira is a pretty traditional fishing town on the Algarve coastline while Monte Gordo is a popular modern resort with a wonderful beach. Both destinations are very different from each other and are only separated by a relatively short train journey. This guide will detail the train service between Monte Gordo and Tavira, list fares, detail the location of the train stations.
Why visit Monte Gordo or Tavira
Tavira is a great day trip destination for tourists who are based in in Monte Gordo to experience the traditional side of Portugal. The town is a picturesque fishing village, with an extensive history dating from the Moorish era. There are numerous historic buildings, fine restaurants and the town has a more relaxed pace than intense Monte Gordo.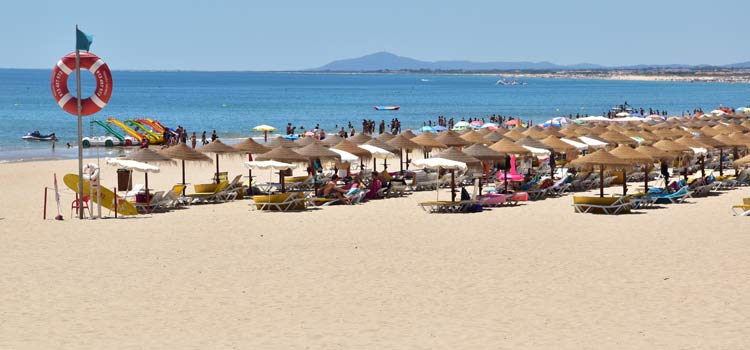 The beach of Monte Gordo
Monte Gordo offers the finest beach of the eastern Algarve which is easily accessible from the numerous towering hotels. Monte Gordo could never been considered as the most charming of resorts but there are many excellent day trips, including crossing the border into Spain.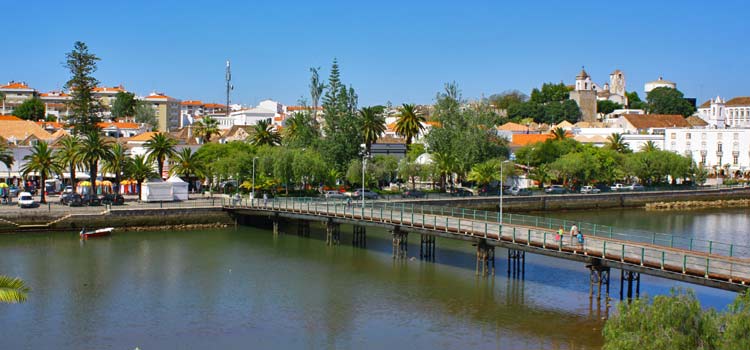 Tavira castle and historic buildings
These two very different style of holiday destinations are only 20km apart and are connected by good inexpensive public transport. There are more frequent bus services and both bus stops are located in the town centres but the train provides for a more pleasant relaxed journey and there is always space even at the height of the summer season. This guide will detail the train service from Tavira to Monte Gordo.
Monte Gordo to Tavira by Train - Details
The Tavira Monte Gordo railway is a low capacity regional railway, which is inexpensive, infrequent and safe to use even late at night. The train journey from Tavira to Monte Gordo takes 25 minutes and an adult single costs €2.45 while a child ticket is €1.20. There are no discounts for purchasing a return ticket, therefore an adult day return costs €4.90.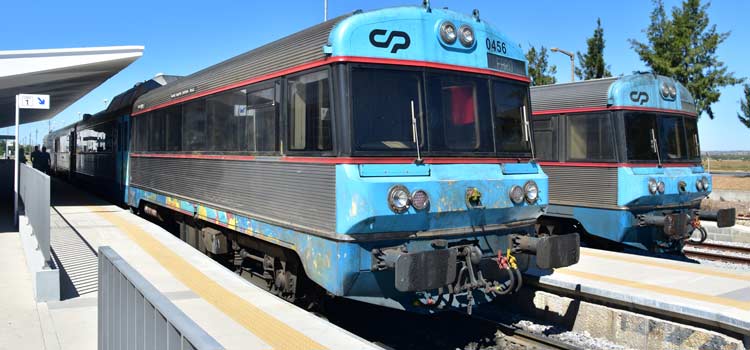 The Monte Gordo train
There are discounts for pensioners (50% off the fare) and under 25s (25% discount) when valid ID is shown. Tickets can be purchased from the ticket office (Tavira) or from the conductor for Monte Gordo as the station does not have a ticket office or ticket machine. As the railway is a regional service tickets cannot be pre-booked and there is no need as there is always space on the trains. Do note that inter-city trains from the Algarve (Faro or Tunes) to Lisbon and the north must be pre-booked from ticket offices.
Tavira to Monte Gordo Train Stations
Neither Tavira train station nor Monte Gordo station are located close to the respective centres and both require an approximate 1km walk. Tavira station is located to the west of the town at the end of the Mateus Teixeira de Azevedo Avenue, the walk into town is all downhill, along cobbled streets and is well signed. Monte Gordo station is north of the main resort and is on the northern side of the N125 road.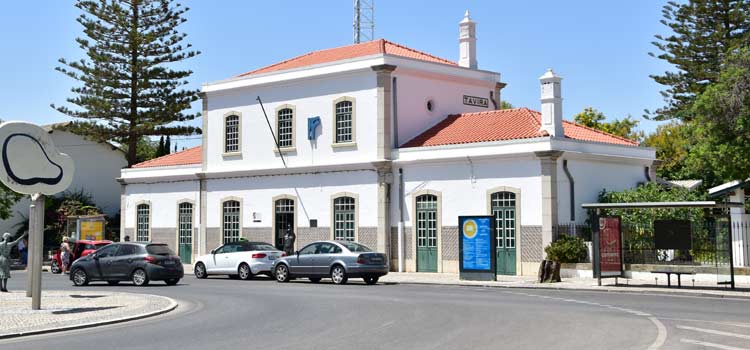 Tavira's small train station
To get to the station follow the main central strip north from Monte Gordo and go straight across the roundabout, the station is at the end of the road (200m). Tavira is a small train station and has a ticket office that is open during office hours and there are cafes opposite the station. Monte Gordo has no ticket office or cafes and is a boring place to wait for a train. Monte Gordo train tickets are purchased from the conductor.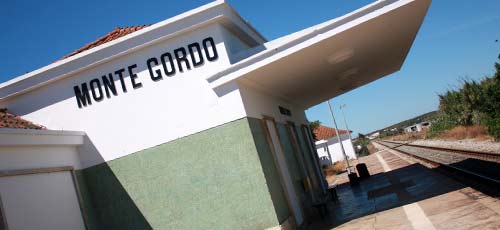 Monte Gordo train station, is very small - even the ticket office is shut
Day Trips
The train services are limited but are frequent enough so that a day trip to Tavira is possible from Monte Gordo. A single day is enough time to explore Tavira and it is a highly recommended day trip for visitors who want to see more than just golden sands and high rise hotels. A day trip to Monte Gordo is possible from Tavira but Monte Gordo is more of a base to explore the region than a place to visit as a day trip.