Monte Gordo Weather
The following weather charts display the average weather for Monte Gordo. Monte Gordo is a popular beach resort and is blessed with the almost perfect weather of the Algarve, with hot dry summers and mild winters. The summer season lasts from early May through to late September.
Monte Gordo Average Weather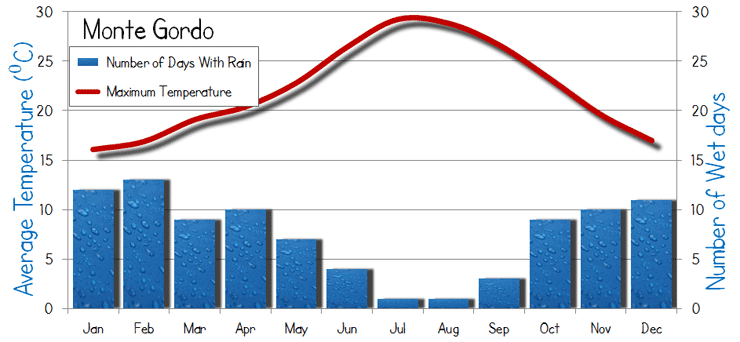 The average weather of Monte Gordo
Monte Gordo has hot summers dry summers but the winter months can be unpredictable with equal amounts of dry days as over cast or wet days. Summers can get very hot due to the intense sun and it is suitable still to be on the beach past 17:00.
Monte Gordo Temperature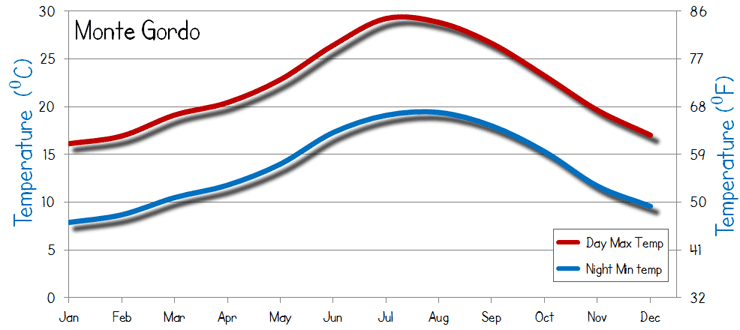 Monte Gordo temperature in centigrade and Fahrenheit
The above temperature chart displays the average day time maximum (in shade) against the night time minimum. It should be noted that the maximum temperature is the air temperature measured in shade, the temperature in direct sun light will feel much hotter.
Sunshine and Hours of Sun for Monte Gordo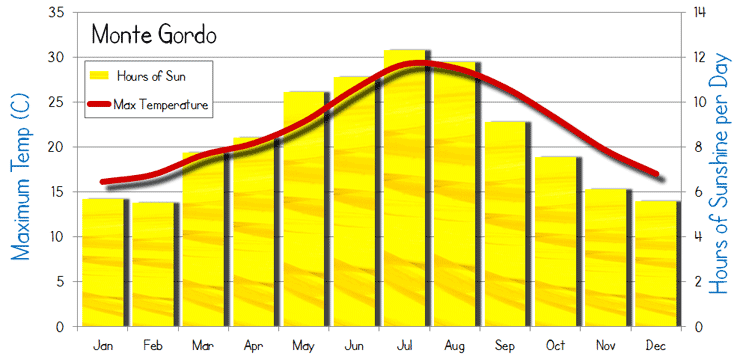 The average hours of sunshine per day for Monte Gordo
The above chart shows why the Algarve is such a popular holiday destination, during the summer months the average hours of sunshine per day is great than 10 hours. This compares with London (6.5 hours) Dublin (5.9 hours) and New York (8.9 hours).
Monte Gordo Rainfall and Number of Wet Days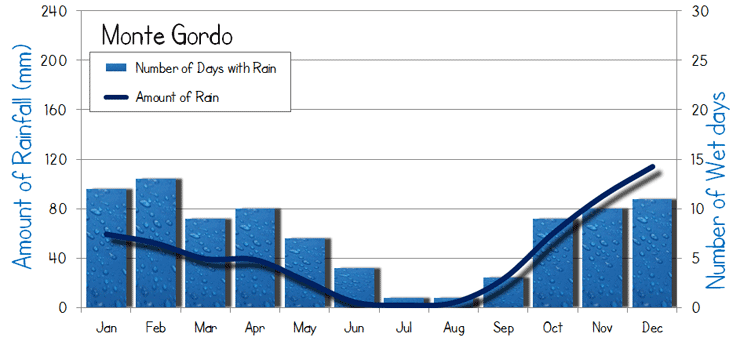 The average amount of rain and number of wet days for Monte Gordo
The majority of the rain falls in the winter months but the amount is significantly less than most of Europe.
Monte Gordo Portugal Holiday Guide