Vila Nova Milfontes Camping and Campsites
Vila Nova Da Milfontes is a delightful Portuguese fishing village that lies on the western coast of the Alentejo region and is surrounded by gorgeous beaches and stunning scenery. Vila Milfontes makes for a fantastic detour for visitors who are traveling between the Algarve and Lisbon or as a tour of central Portugal. Vila Milfontes boast a sleepy and welcoming atmosphere outside of the summer, when it turns into a lively resort filled with Portuguese holiday makers.
Why Camp at Vila Nova Milfontes and Overview
As Vila Milfontes is designed for the Portuguese tourists all facilities are exceptional value and this includes the multiple campsites dotted through the area. The younger Portuguese are avid campers while the older generation tend to own static caravans in specially designed sites. This means that there are a surprisingly large number of campsites and they are very large with great facilities. This guide will provide an overview of the campsites in Vila Nova Da Milfontes.
Within the vicinity of Vila Nova Da Milfontes there are three good campsites, two located in the town and one 8km to the north, close to a stunning beach. All of the campsites have good clean facilities, cafes, shops and swimming pools. Vila Nova Da Milfontes campsites need to booked well in advance for the short Portuguese summer season (mid July until August) but outside of this season there is always space.
Parque de Campismo do Sitava Campsite
The Parque de Campismo do Sitava lies to the north of Vila Nova by 8km and is near the stunning beach of Praia do Malhao. This campsite lies within a national park and a pine forest of 25,000 trees and has a four star rating.
This large site of 300 touring pitches has a great swimming pool, is child friendly and in a great natural surroundings. The main downside is that it is 8km to Vila Nova. The campsite is part of the Orbiter campsite organisation and bookings are made through them. (http://www.orbitur.pt ) Prices are more during the summer but are around caravan € 4.90, tent € 4.75 and€ 6.20 camper. Campsite contact number (351) 283890100.
Parque De Campismo Da Milfontes Camping
The Parque De Campismo De Milfontes (or Camping Milfontes for the internet) is the largest campsite in Vila Nova with over 900 touring pitches and 44 static accommodation that can be hired. The campsite lies on the northern outskirts of Vila Nova and this good 2 star campsite has pool, restaurant and cafes but everything in the town is within walking distance. The campsite contact is 283 996 140 or via their website http://www.campingmilfontes.com.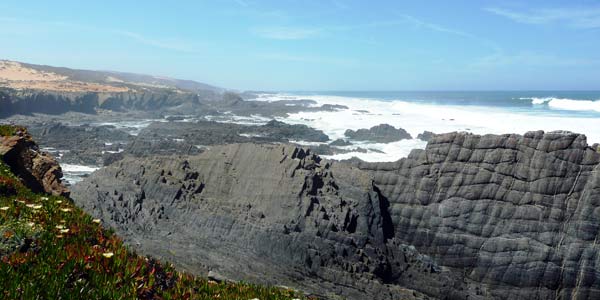 Vila Nova Camping Campiferias
The third campsite, Camping Campiferias, is the closest to the centre of Vila Nova with the Mira River only 800 meters away. The site has 200 touring pitches and 21 static sites for rent facilities include restaurant bar and function room with table football! Their contact website is www.campingcampiferias.com
Vila Nova de Milfontes Holiday Guide
Algarve-South-Portugal.com, with over 200 pages, if its not here it's probably not in Portugal!