Praia das Furnas Beach, Milfontes
The Praia das Furnas lies on the opposite bank to Vila Nova da Milfontes on the mouth of the Mira River. Half of the beach opens onto the Atlantic Ocean and is great for surfing and body boarding while the other half faces the River Mira. This beach has many of the same characteristics as the Farol Beach, the main beach of Vila Nova, but as on the opposite bank it is always much quieter.
Praia das Furnas is the largest beach within easy reach (when the ferry is working) of Vila Nova, that has clean bathing waters and a rugged non-developed atmosphere. The Praia das Furnas is the place to head during the busy summer season.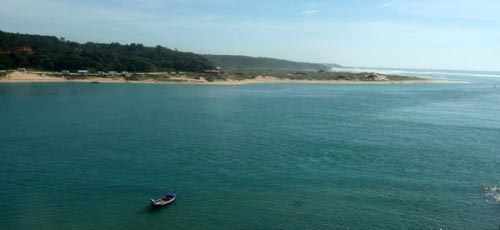 Tourist Guide Praia das Furnas
The Praia das Furnas is on the opposite bank to Vila Nova and is reached by the regular ferry service that crosses the Mira River. The ferry runs during the summer season and a return ticket costs €2.60. On the Praia das Furnas there is very little development with just one bar-restaurant that is again only open during the summer months. The beach is popular with families but there are strong tidal currents both on the riverside and the sea facing side. Praia das Furnas is supervised by a lifeguard in the summer and the seawaters are very clean receiving a blue flag in 2014.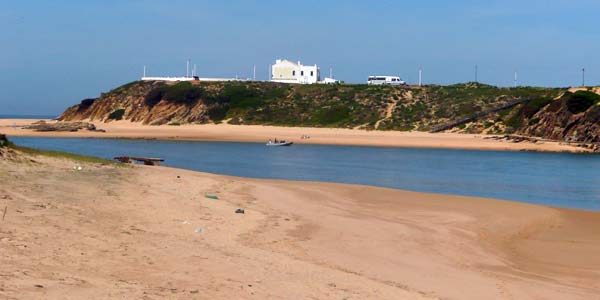 When the ferry is not running a rental car (or bicycle) is required to reach the beach. From Vila Nova cross the bridge that carries the N393 road and turn right at the first junction along the dirt track road. The beach is at the end of the road and the café/ main car park is at the southern end of the beach.
Vila Nova de Milfontes Holiday Guide
Algarve-South-Portugal.com, with over 200 pages, if its not here it's probably not in Portugal!