Introduction - Things to do and see - Milfontes beaches - Lisbon to Milfontes - Best Hotels - Day trips
Vila Nova Da Milfontes Day Trips and Excursions
Vila nova de Milfontes is a delightful beach resort that lies on the western side of the Alentejo region. The town is situated along a stunning coastline and is surrounded by a national park which has ensured all tourist development is in keeping with the relaxed ambience of Vila Nova.
The Alentejo coastline makes for pleasant alternative to Algarve and Vila Nova is an ideal base to explore this surprisingly un-touristy region of Portugal. This guide will detail the common and most popular day trips from Vila Nova de Milfontes. Unfortunately public transport in the region is very limited and a rental car is recommended to fully explore the area surround Vila Nova Milfontes.
Porto Covo Day Trip
Porto Covo is a small and pretty fishing village that is located close to some of the finest beaches of the Alentejo coastline of the region. The town is centred around the 17th century Praça Marques de Pombal square one of the oldest grid plan layouts with cobbled streets lined with traditional painted houses.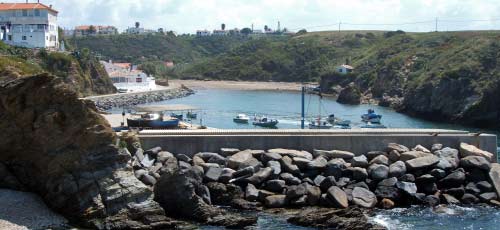 The harbour of Porto Covo
The main attraction of Porto Covo are numerous idyllic cove beaches that are set amidst the towering cliffs and open out onto the powerful but clean waters of the Atlantic Ocean. Porto Covo and the surrounding area makes for a highly recommended day trip from Vila Nova Milfontes and is less than 20 km between the two towns.
Zambujeira do Mar Excursion
The small town of Zambujeira do Mar is one of the most visually dramatic locations found in southern Portugal. The brilliant white houses are at stark contrast to the massive black basalt cliff that surrounds the town's golden sand beach.
Aside from the beautiful view there are great coastal hiking trails which follow the cliffs and open up on unspoilt beaches. Zambujeira do Mar has a laid back and welcoming atmosphere and is extremely popular with Portuguese tourists. Zambujeira do Mar is 25km south of Vila Nova de Mifontes but almost no public transport connections.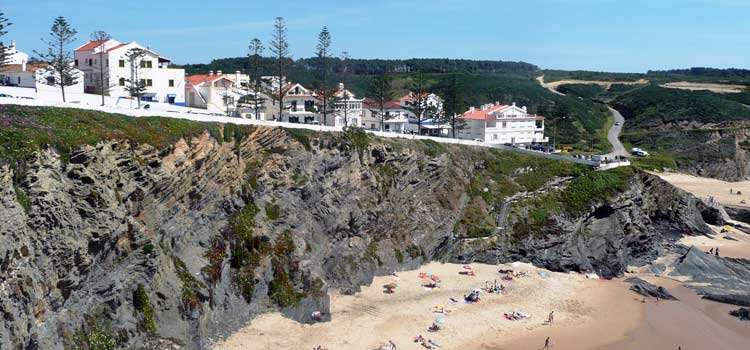 The Beautiful sea front of Zambujeira do Mar
Day Trip To Sines
Sines is the largest city in the region and is an important industrial and manufacturing centre for Portugal and provides one of the largest deep water harbours of the Atlantic coastline. Sines was the birth place of Vasco da Gama, the great Portuguese explorer who discover the sea route to India and the city happily embraces this history.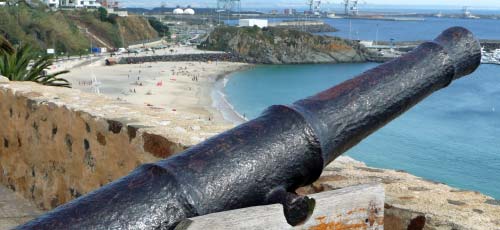 Sines fort overlooking the beach and harbour
The main attraction of the town is the massive fort that stands high above the recreational marina and once guarded the city. The old quarter of Sines is pleasant to explore with cobbled streets and amazing views over the seas. There are pretty beaches around Sines but for water sports head further south were the water quality is much better. Sines is located 35km north of Vila Nova de Mifontes.