Introduction - Things to do and see - Milfontes beaches - Lisbon to Milfontes - Day trips
Praia do Brejo Largo Beach, Longueira
The Praia do Brejo Largo is a stunning beach that is located to the south of Vila Nova de Milfontes. The beach faces the power of the Atlantic Ocean with massive waves crashing onto the golden sands of the beach. The Brejo Largo beach is located in the stunning landscape of the Sudoeste Alentejano National Park, which also has ensured tourist development is limited.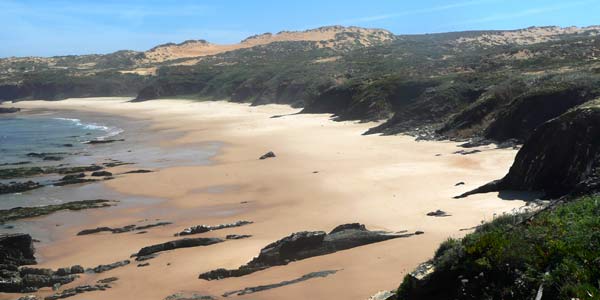 The Brejo Largo beach is the place to head to for a deserted beach and this includes the height of the summer as from the main resort town of Vila Nova it is a 15 minute drive or from the smaller town of Almograve a long coastal walk is required. The Praia do Brejo Largo is the beach that most visitors to central Portugal are searching for; an empty slice of golden sand, surrounded by craggy cliffs with a wild sea perfect for body boarding or surfing.
Tourist Guide about the Praia do Brejo Largo
The main draw of the Praia do Brejo Largo for tourists is its complete lack of development. There is a car park and a well-worn path to the beach and that's it, surf equipment must be hired or purchased from in Vila Nova. The beach is not really suited for families or children as there is no summer life guard and the sea has strong currents.
To the north of Praia de Brejo Largo is an even smaller beach of Praia dos Nascedios. The two beaches are connected by a coastal footpath which stretches the entire length of the national park. Following this very vague path along the coastline in a southerly direction for 2km leads to the pretty town of Almograve. This is the largest village of the region and has a well-regarded youth hostel and a couple of good restaurants sell exceptional value food.
Travel to the Brejo Largo Beach Longueira
Traveling to Praia de Brejo Largo requires a rental car as there is no public transport and even with a car it is not that easy to find, Google-maps do not even display the access roads!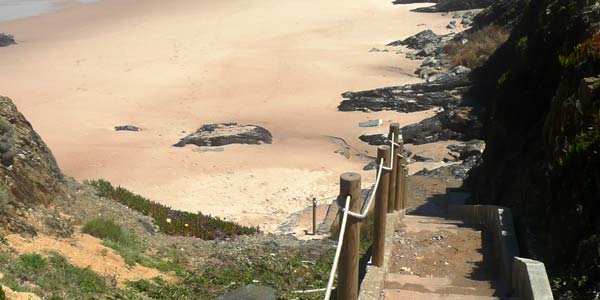 The access road to the Brejo Largo beach is from the small village of Longueira, 12km south of Vila Nova Da Milfontes. Longueira is connected by the N393 which heads south across the bridge from Vila Nova. The exit for Longueira is the first roundabout on the N393, 10km from the Vila Nova bridge. From the roundabout it is further 2.5km until a small junction on the right which leads directly to the beach, the final 1km of the drive is along gravel roads. For a good detailed map of the region please see the openstreetmap.com and the exact link for the Brejo Largo beach is www.openstreetmap.org/#map=15/37.6695/-8.7939. This map will indicate why the beach is deserted during the summer months but is well worth the effort.