Introduction - Things to do and see - Milfontes beaches - Lisbon to Milfontes - Best Hotels - Day trips
Lagos and the Algarve to Vila Nova de Milfontes by Bus
Vila Nova De Milfontes is traditional and low key beach resort situated on the western side of the Alentejo region. Vila Nova has a completely different ambience to the crowded and developed Algarve region but is situated along an equally beautiful coastline of glorious beaches national parks and stunning scenery.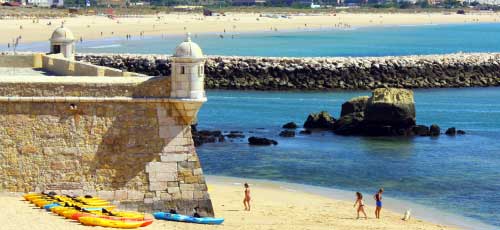 The coastline between the south west of Algarve, Lagos and Vila Nova Milfontes is best explored with a rental car as public transport throughout the region is very limited. There are very few bus services connecting Vila Nova with the Algarve and this guide will detail the primary route from Lagos to Vila Nova de Milfontes.
Vila Nova de Milfontes to Lagos Overview
Vila Nova de Milfontes is 100 km north of Lagos, 180 km South of Lisbon and 35km south of Sines the largest town in the region. The bus route from Lagos to Vila Nova is the only service which connects the small resort town with the Algarve. This bus route is operated by Rede Express the main intercity bus company that covers the entire of Portugal. Rede Express buses are safe, clean and the service they provide is punctual and reliable.
Lagos to Vila Nova de Milfontes Details
There is just a single service in both directions which connect Lagos and Vila Nova de Milfontes. This service is daily but the frequency does not increase during the height of the season. It is advisable to pre-book tickets for this route during the summer months owing to the limited availability. Tickets can be purchased 30 days in advance from the website of Rede Express (http://www.rede-expressos.pt) or from the bus station of Lagos. Tickets purchased online cannot be altered in any manner and a missed bus does not guarantee an instant replacements ticket.
As of 2014 the bus service departs from Vila Nova at 10:50, while the Lagos bus leaves at 15:20 and the journey time is just under two hours, always check before of seasonal or annual variations. A single bus ticket costs €13.50 while the return fare is €24.40. The Lagos Vila Nova de Milfontes bus route also serves the towns of Odemira, Sao Teotonio and Aljezur.
Lagos Algarve and Vila Nova De Milfontes Bus Stations
Lagos is the main bus station for the western side of the Algarve and is located on the Largo Rossio de Sao Joao road 1.5km north of the city centre. Lagos bus station provides all expected facilities of a large bus station, the ticket office is open from 7:30 – 20:30 and from here all onward travel arrangements can be made.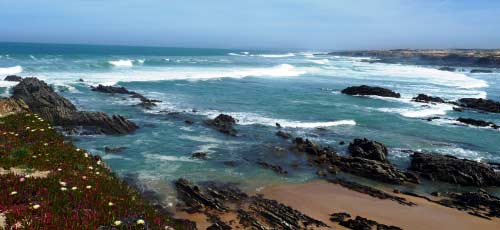 All buses from Lagos originate from the bus station so there are few delays with departure times. Vila Nova de Milfontes is much smaller and does not have a bus station. The bus stop in Vila Nova is to the north of the town close to the campsites, and the exact GPS coordinates are; 37.72994, -8.78148.