Lisbon to Vila Nova de Milfontes by Bus
Vila Nova De Milfontes is the largest resort town of the Alentejo coastline and is situated 185km south of Lisbon. During the summer it is a bustling beach destination that is extremely popular with Portuguese tourist, while out of season it attracts a more mature visitor and has a focus on walking, cycling or simply relaxing. The Alentejo has limited public transport but there are regular bus services connecting Vila Nova de Milfontes and Lisbon. This guide will explain in-depth how to travel from Lisbon to Milfontes by bus and provides links to current timetables, fare information and bus station guides.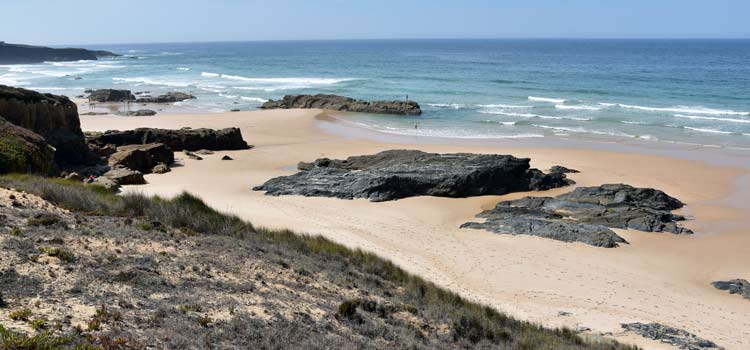 Most visitors travel to Vila Nova for the stunning beaches!
Lisbon to Milfontes Overview
Even though Vila Nova de Milfontes is a popular summer holiday destination, the Alentejo is primarily a rural region and the limited public transport reflects the sparse population. There are no rail services which pass along the western Alentejo coastline, so the only option is bus. These bus services have tediously long journeys as they connect all of the major towns along the western Alentejo. A car is the best way to explore the region and becomes essential if you're based outside of Vila Nova de Milfontes.
Lisbon to Vila Nova de Milfontes bus
Intercity coach travel in Portugal is safe, reliable and inexpensive. The Lisbon to Vila Nova de Milfontes bus is operated by Rede Expressos, the national bus company of Portugal, and use modern, clean and comfortable buses. The journey from Lisbon to Vial Nova de Milfontes takes 3hours and 30 minutes. In Lisbon the bus departs from the Sete Rios bus station (details later on) and in Vila Nova de Milfontes the bus stops close to the campsite to the north of the town. A single ticket costs €15.60 /€7.40/ €13.10 (adult/child/senior) and a return ticket costs €27.80/ €14.80/ €23.00 (adult/child/senior) these prices are correct as of October 2017.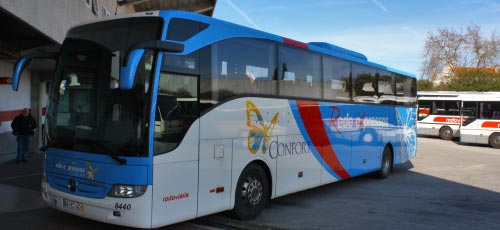 The intercity buses are clean, modern and safe
The number of daily departures reflect the season, with many more in the summer and less in the winter. Rede Expresso do not publish their latest timetables on the internet so for the exact timetable please view their website and use the search feature:
www.rede-expressos.pt/
(please note link opens new tab)
Purchasing tickets for the bus
In the summer bus tickets should be purchased well in advance as popular services do sell-out. Tickets can be purchased on the Rede Expresso website (please see link above) and it is preferential to purchase online tickets with them, as they will be providing the service…..
Bus tickets cannot be purchased from the driver and must be bought before boarding. In Lisbon tickets can be purchased from Sete Rios bus station with its multiple ticket office and sales staff who speak fluent English.
In Vila Nova de Milfontes Rede Expressos bus tickets are only sold from a small sewing shop, which is hidden down a back alley (you have to love the Alentejo region!). The shop GPS coordinates are 37.72673, -8.78294 and if you can't find it, ask at the tourist information office.
Important: The bus to Lisbon does not depart close to the sewing shop but near the two campsites (GPS 37.72996, -8.78144)
On the bus
Each ticket will be allocated a seat number and it is suggested to sit near the front or middle of the bus as the route near Santiago is very windy. Heavy and large luggage will be stored in the luggage compartments beneath the bus. Most of the intercity buses do not have toilets but previous few time I've ridden this service it stops in Santiago for 10 minutes and there are acceptable toilets here.
Bus Station Information For Lisbon And Vila Nova De Milfontes
Buses to Vila Nova depart Lisbon from the Sete Rios bus station which is Lisbon's main bus station and the departure location for all Rede Express buses. Sete Rios bus station is connected to the blue Metro line and is served by the Jardim Zoologico metro station. Sete Rios has all expected facilities of a major bus station with a large ticket office, multiple shops and cafes. Rede Expressos bus are punctual and it is advisable to arrive 15 minutes before the scheduled departure time.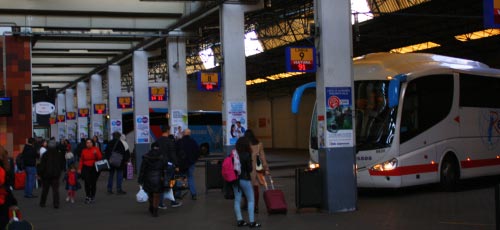 Sete Rios is a busy bus station
Vila Nova de Milfontes is too small to have an actual bus station and the intercity bus services drop off and pick up passengers from a single bus stop. The bus stop to the north of the town close to the campsites, and the exact GPS coordinates are; 37.72994, -8.78148.
Vila Nova de Milfontes Holiday Guide
Algarve-South-Portugal.com, with over 200 pages, if its not here it's probably not in Portugal!